Meditation Course Singapore
Meditation Course Singapore
"Meditation is an art of living!" Why do people keep saying this? Why are most of us so keen on making it a part of our lives? It's not just merely a way of living but also a proven method to help you stay healthy, focused, calm, happier, and keep relationships even more beautiful. One shall experience a better how it is to be serene and to be able to perform many tasks at their best.
We all are living in an age where the world, our society is always moving, working which elevates stress almost every day. This is where meditation places an important role in reducing stress to a great level by relaxing our nervous system. It reduces cortisol hormones from our body, improves serotonin which acts as good chemical needed to maintain our sanity.
However, there are seamless benefits of meditation. Let us take you through on what all areas can meditation help you if made it an everyday part of your life:
You become a much calmer person. Decisions are based on our thoughts and emotions we have at a particular moment. We must make good healthy decisions, especially during challenging times. By making meditation a part of our lives, we become much relaxed, calm enough to take better rational decisions.
You can boost your creativity. It becomes so convenient for you to strategise better, come up with innovative ideas to make any endeavours stronger or boost up your business' activities. Fundamentally, meditation has a great influence in moulding our careers for all good.
You become focusedon life. In today's digital world, we tend to get carried away with loads of content, both recommended as well as irrelevant ones. Amidst all these chaos, it becomes almost impossible for one to concentrate on their craft. Meditation acts as an important tool that enhances an individual to have a bull's eye focus in whatever we do. Learn the art of meditation and guess what you might even have a better chance in winning gold medals on World Olympic Championship or otherwise too.
You'll sleep like a baby. We all yearn for a relaxed, sound sleep amidst our busy days yet sometimes it becomes almost impossible to have one. Our mind is a chatterbox and that's the reason we tend to have an unhealthy sleeping pattern. By practising meditation, one can improve their quality of sleep, and help their body to function even better.
You'll smile from within even more. Meditation acts as an angel that fills more of happiness in our lives. It helps us to become emotionally stronger. We somehow get the inner strength to face greater challenges on our lives and in a way we become immune to pain. We start to realise and be more grateful to the things we have around with us. We eventually learn to be happier.
You can overcome anxiety and depression. A person lives a hard life with such overwhelming feelings. It improves the immune system which helps in controls your blood pressure as well. Make meditation part of your daily life and see yourself developing inner strength, be more confident.
You develop discipline and slows down ageing as well. Who wouldn't stay healthy, fit and young? Meditation gives you an added benefit of developing willpower, have a disciplined life which thereby slows keep your body and mind soul always full of energy,remain younger and be cheerful. Make it a routine and gradually explore to reach the highest point of consciousness.
You will learn more about yourself and find meaning to life. Explore your inner world and find the epitome of happiness, feel the oneness of this universe and discover the sole purpose of life.
Yoga Therapy Teacher's Training Course 300 hrs
$3100
Beginning April 2023
Meditation Teacher's Training Course 100 hours
Prana Vidya (Master your Breath, Master your Life)
Yoga Teacher Training 200hrs (Yoga Alliance USA)
3 intakes each year
May 2023
August 2023
October 2023
$2100/
Register Now
YOGA Therapy For High BP, Anxiety, Insomnia
4 Sessions 40 Minutes Every Thrusday Morning 9am on Zoom $80/ person
Tuesday morning 8am Get Strong Class Using light weights and resistance bands $60/4 sessions/month 40 Minutes 8AM
Yoga Therapy for Neck & Shoulder Pain
Wednesday 9am $80/4 sessions/month
YOGA THERAPY FOR KNEE PAIN
40 Minutes 4 Sessions/Month $80/Month Zoom Sessions Every Friday 9AM
YOGA THERAPY FOR LOWER BACK PAIN
40 Minutes 4 Sessions/Month $80/Month Zoom Sessions Every Friday 08AM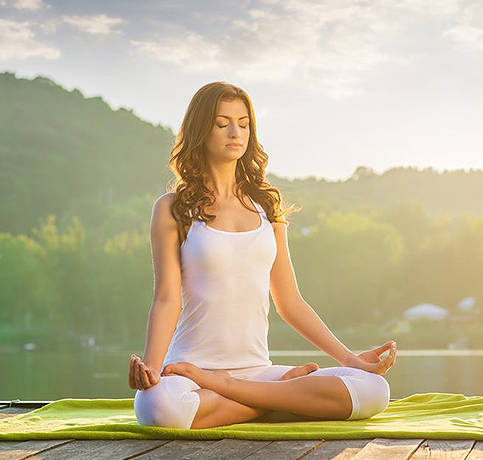 LEARN TO MEDITATE IN 6 WEEKS
Starting March 4th,2023
6 sessions/6 weeks/ every Thursday 7pm $150/all six sessions
Register Now
JOIN US FOR 21 Sun salutations
Each Week Every Wednesday, 8.15AM Free your mind, body & spirit. Strengthen your back & core muscles. Get better control of your swing. $40/month/ 4 sessions